[Video] Koffee – "Pressure (Remix)" ft. Buju Banton « tooXclusive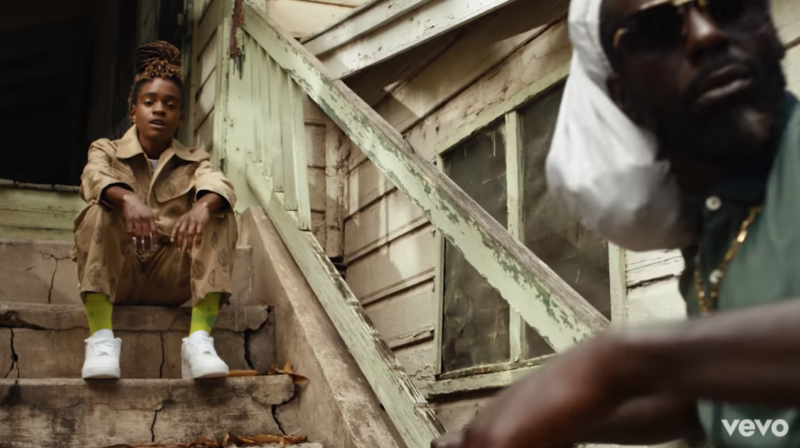 Multi-talented Jamaican singer Koffee teams up with Jamaican reggae dancehall recording artist, Buju Banton for 'Pressure Remix'.
"Pressure (Remix)" by Koffee featuring Buju Banton, produced by PrexyJ & Ryan Bailey is a follow up to the original Pressure record earlier released by Koffee after the success of Lockdown.
Watch the music video below and Listen to "Pressure (Remix)"… ENJOY!
"Pressure (Remix) Lyrics"
[Intro: Buju Banton]
Hear dat
Dem think it's a joke?
Sister, talk to dem nuh
Koffee
Ooh, yeah (It's real)
Never give up (Do you have any doubt?)
Do you?
Never give in (Here's what we talking about, Koffee!)
[Chorus: Koffee]
Under the pressure, under the pressure, yeah
Under the pressure, under the pressure, yeah
If yuh poor, trouble tek you
When yuh rich it nuh settle
'Cause we all under pressure, my friend
Sometimes when yuh feel it yuh cry doh
Hurt yuh heart enuh
But do, no mek it stress yuh
Cause it haffi be better
Nuh haffi live ina the ghetto
Fi be under the pressure, my friend, yeah
[Verse 1: Buju]
From wi born ina di struggle isolated inna bubble what law fi di rich yet another fi di poor
Jah bless and please help us we caan take no more
We feeling di pressure way down to di core
How money fi deh ya wen dem sen it offshore?
An every nation come ya get rich and we stay poor
Dem show you twenty dollar weh go through di back door
Tell dem, Tell dem seh we caan tek no more!
[Chorus: Koffee]
Under the pressure, under the pressure, yeah
Under the pressure, under the pressure, yeah
If yuh poor, trouble tek you
When yuh rich it nuh settle
'Cause we all under pressure, my friend
Sometimes when yuh feel it yuh cry doh
Hurt yuh heart enuh
But do, no mek it stress yuh
Cause it haffi be better
Nuh haffi live ina the ghetto
Fi be under the pressure, my friend, yeah
[Verse 2: Koffee]
Lord have mercy
This cya get no worse
Haffi call it a curse
How me heart it a hurt me
Call it cerosee
Because from me birth
A the first me a feel like the Father desert me
But, hmm, all when the pressure erupt
Me never give up
No, no, no me never give in
Me a send up a prayer fi the better living
I cya bawl so a better me sing
[Chorus: Koffee]
Under the pressure, under the pressure, yeah
Under the pressure, under the pressure, yeah
If yuh poor, trouble tek you
When yuh rich it nuh settle
'Cause we all under pressure, my friend
Sometimes when yuh feel it yuh cry doh
Hurt yuh heart enuh
But do, no mek it stress yuh
Cause it haffi be better
Nuh haffi live ina the ghetto
Fi be under the pressure, my friend, yeah
[Bridge: Koffee]
It serious (Serious)
Lawd, times rough and it serious (Serious)
Life is a little mysterious
Have we pot and we can't even stir it up, oh no!
Cya wait fi morning come
Oh gosh, the night too long
Oh gosh, the fight too long
I cya wait fi see the sun
[Chorus: Koffee]
Under the pressure, under the pressure, yeah
Under the pressure, under the pressure, yeah
If yuh poor, trouble tek you
When yuh rich it nuh settle
'Cause we all under pressure, my friend
Sometimes when yuh feel it yuh cry doh
Hurt yuh heart enuh
But do, no mek it stress yuh
Cause it haffi be better
Nuh haffi live ina the ghetto
Fi be under the pressure, my friend, yeah
[Verse 3: Buju]
Yes di pressure is real and di whole world ah feel
Yet we nah give up
Overflowing of we cup and di system corrupt look
How hard some a work an it still not enough
Unu lock dung di world now nobody nah wuk
An no food no ina di house while di bills pile up
When you listen politician youh say youh wait a second
Today feel di same as even I do
[Chorus: Koffee]
Under the pressure, under the pressure, yeah
Under the pressure, under the pressure, yeah
If yuh poor, trouble tek you
When yuh rich it nuh settle
'Cause we all under pressure, my friend
Sometimes when yuh feel it yuh cry doh
Hurt yuh heart enuh
But do, no mek it stress yuh
Cause it haffi be better
Nuh haffi live ina the ghetto
Fi be under the pressure, my friend, yeah
---